| | | | | |
| --- | --- | --- | --- | --- |
| | | Mic Mute - lite | | |
A simplified version of our Microphone Muting pedal - featuring just an XLR microphone input and output.

·

XLR microphone input (female)

·

XLR microphone output (male)

·

Bright red LED to show when muted

·

Momentary operating footswitch, push to mute then push again to un-mute. The latching action is carried out electronically.

·

Phantom powered from the mixing desk

·

Silent, clickless muting

Housed in a strong aluminium die cast box 120 x 95 x 35mm fitted with non slip rubber pad on the base.

Weight: 300g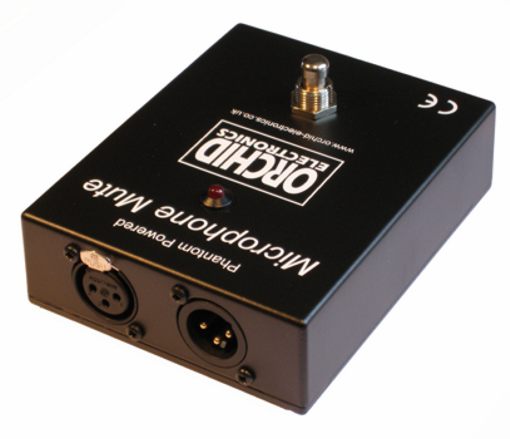 This unique product has been very well received and is used in a variety of situations, but primarily by musicians with very high quality microphones fitted to their traditional style acoustic instruments - such as fiddles,guitars, cellos and basses.

Widely used with DPA, Audio Technica, AKG, Neumann and Shure studio type microphones - as well as balanced contact microphones such as Shertler.

The muting circuitry is powered by Phantom power from the mixing desk - this is passed on to the microphone. If you are using a dynamic microphone that does not need Phantom power - there is no problem, or risk of damage to it.
Orchid Electronics Mic Mute lite leaflet PDF