Frequently asked questions:
Orchid products are hand made in small batches in the UK

NEW VERSION OF THE Micro DI Box - NOW AVAILABLE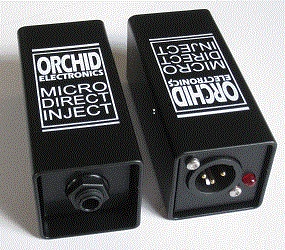 Amp Interface




To enable a previously recorded guitar signal in a studio to be fed into an instrument amplifer - with the output re-recorded to capture the sound of the amp and the room.


£56.00 inclusive of VAT and delivery

After well over 20 years of continuous production of the original Orchid DI Box - we have produced a replacement. The well proven electronic design remains essentially the same - but is now housed in an extruded aluminium case.

In view of the long history of this design, the new model is to be known as our Classic DI Box.


Only £42.00 inclusive!

More info

An 8 way Microphone Splitter is available housed in a shallow 2U high rack case

£240.00 including VAT and delivery



Designed for use with Microvox and other electret type contact microphones to amplify concertinas, accordians. melodeons. flutes and similar instruments. Powered from mixer Phantom supply - so no batteries needed.

£64.00


£24.00

The input and output are completely isolated by a miniature high quality audio 1:1 ratio transformer.
More info


Orchid Product Review:
Our Classic, Micro and Muting DI Boxes are reviewed in the MAY 2012 edition of Sound On Sound magazine.
There are plots of frequency response, noise and distortion and distortion against input level of the Orchid Micro DI Box directly compared to a Radial J48 DI available:
Audio Precision analyser plots
The excellent results and very favourable comments made in this exhaustive and independent review confirm what our many customers and long established users already know about about our products!


Unique Product - available from stock now!
An active DI Box - based on the established well proven circuitry of our Classic and Micro DI Boxes - this design has a silent, clickless, muting facility.
£66.00 inclusive of VAT and delivery
Dual Channel Transformer Isolator

Dual channel version of our popular Transformer Isolator. Ideal for use with lap top computers for noise free music replay into a mixing desk.
£35.00 inclusive of VAT and delivery
XLR version: £37.00 inclusive of VAT and delivery
A Dual Channel version of the Micro DI Box is now available and is ideal for use with keyboards and other stereo sound sources
£58.00 inclusive of VAT and carriage